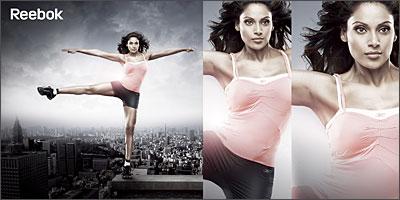 Move over Sagarika Ghatke, Bipasha Basu is here to kick up some sweat!

That's right, Reebok India has signed on the fittest Bollywood star as it's new face.



Tickled pink with the news, Bips, whose film Race is releasing shortly, couldn't stop gushing in her excitement, "I love the energy, the exhilaration and the passion of the brand. I believe in the brand attitude of 'I am what I am'. In many ways it's me! And that's what I have been drawn by and relate to so deeply and well, for that matter there couldn't have been a better brand connect."

Reaffirming their choice Subhinder Singh, Managing Director, Reebok India said "Bipasha embodies the pulse points of our brand --individuality, authenticity and a life lived to the fullest in perpetual motion. She is an actor par excellence, a celebrated youth icon with an immense passion for fitness. These characteristics make her a perfect fit for our brand and we will drive this spirit through our future initiatives to motivate the Indian woman to take up fitness."

It seems they have made the right choice!